Services
Roll Grooving & Crowning
MSR has computer-controlled crowning and grooving equipment to ensure the most accurate patterns. Crowning patterns include Parabolic, Flat Taper, Taper, and Multiple Crown. Grooving patterns include Spiral, Diamond, Chevron and Spreaders, Compound Angle, Threaded, Herringbone, Waffle, Taper, Vertical, Longitudinal, and Multiple Crown.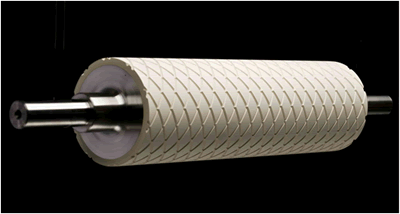 Roll Balancing
MSR offers static and dynamic balancing of new and existing cores. We have balancing equipment in each of our plants. Your high-speed lines can benefit from core balancing services.
Complete Machine Shops
In addition to journal repairs and re-stubs, we manufacture spare and replacement rolls for any application using your design, a standard design, OEM specifications, or from our extensive blueprint library. We also provide new roll fabrication, CAD system blueprinting, custom wood crate with new core, dynamic & static balancing, dye penetrant testing, magnetic particle inspection, and Non-destructive testing.
Scheduled Deliver - MSR Fleet
MSR is very proud to be known for 'handling rolls with care, to and from your dock.' With our fleet of 17 trucks, which includes nine 18-wheelers and air-ride trailers, we cover a lot of miles every week. Our routes stretch through 22 states, and we offer Free Pick-up and Delivery of your rolls on our regularly-schedule truck runs. We also offer hotshot service as needed to keep your lines running. If you're paying freight costs to ship your rollers, you need to call MSR!
Custom Rubber Formulations
Since MSR has two mills for making our own rubber formulas, we are very flexible. If you've got a problem, we want to solve it. Our rubber chemists will work to find a formula that is suited just for your unique application.